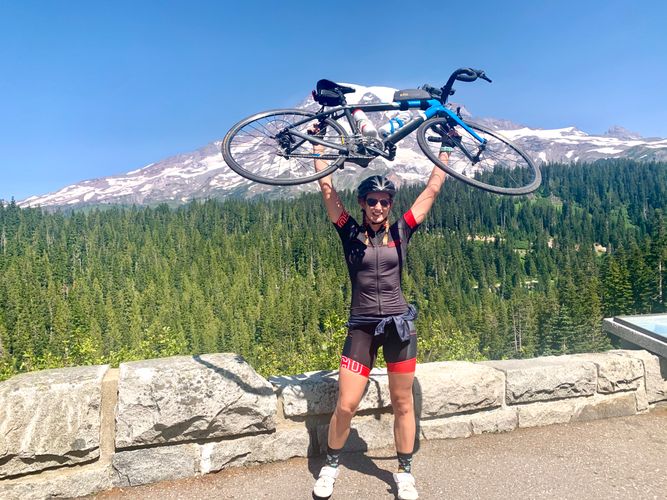 Skyler Kottenstette
Coach
Coach Sky is the definition of a multisport athlete — she learned how to swim before she could walk, and has been pushing the boundaries and distance ever since through triathlon, gravel cycling, ultrarunning, and mountaineering. Moving from competitive swimming to collegiate triathlon to ultrarunning/cycling, Sky has had experience racing in every distance from 5k to ultras and has competed in ITU World Championships, USAT Collegiate Nationals and Age Group Nationals. But most of her experience as an athlete and coach was found in challenging solo adventures such as the Wonderland Trail 100, White Rim 100, and bucket-list ultracycling routes.
Sky is passionate about sharing her enthusiasm for sport through coaching — her aim is to help athletes push their limits and accomplish their racing goals, but more importantly to cultivate healthy habits and love for sport that will last a lifetime.
Working full time in aerospace engineering, Sky has experienced the demands of balancing work, school, training, and family and embodies the 'whole athlete' approach to training. She helps athletes with limited time prioritize their goals and understand the importance of striking the balance between discipline in training versus flexibility.
With 10+ years experience coaching swimmers, ultrarunners, and triathletes through her business independently and through Life Time Fitness, Sky emphasizes athlete-coach connection, data-driven training progression, and injury prevention.
Specialties:
Triathlon - Sprint to IRONMAN
Swimming - OWS & Competition
Road & Gravel Cycling
Running - 5ks to 100M
Education & Certification History:
IRONMAN Certified Coach
USA Swimming Coach
NASM Certified Personal Trainer & Nutrition Coach
BOEALPS Basic Mountaineering Certified
Life Time Certified Run/Tri Coach
Wilderness First Aid Certified
SafeSport Certified
CPR/AED/First Aid
B.S. Astrophysics/German CU Boulder