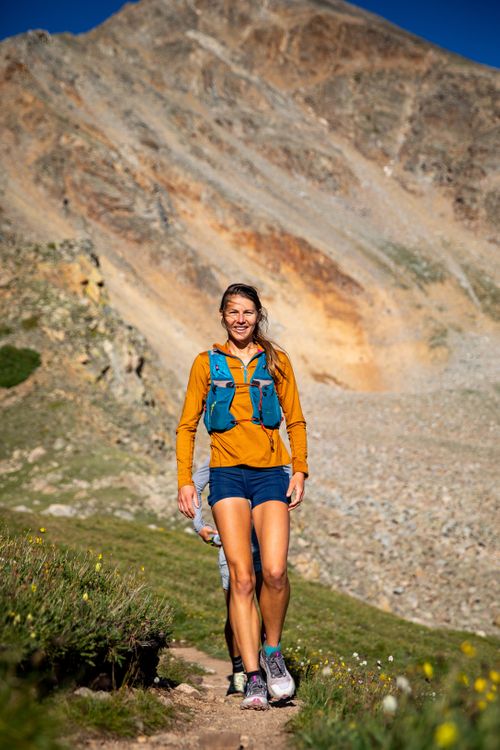 Cat Bradley
Coach
My running journey began as an 800-meter runner at UC-Santa Barbara, where I quickly realized that my spirit was not on the track, but in the mountains. Craving a little adventure and needing to do some self-exploration, I thru-hiked the Appalachian Trail with very little experience. In fact, the warmest article of clothing I packed was my cotton track-suit coupled with a poncho, and I had no idea sleeping pads even existed. However difficult it was, my love for the trails was ignited and has guided my choices since.
My performance at the Bear 100 in 2015 (23:02, 7th fastest time in history) triggered a competitive side in a sport I had previously approached fairly casually. In 2016, I upped my volume from twenty miles per week resulting in a season of podiums and a few wins.
In November of 2016, I won Rio Del Lago 100, coming in under the previous 11-year-old course record. After a hard winter of training and dark mornings balanced with a full-time job as a kindergarten teacher, I was rewarded with a successful 2017 season including a win at the Western States 100.
The 2017 Western States 100 Win- toughest conditions the race has ever seen. 13th overall
Ultra Trail Mont Du Blanc 6th place women, 1st American women, 3rd American over-all, Fastest top ten women in race history
Current Rim-to-rim-to-rim Fastest Known Time Holder in 7:52. Broke a 10 year old Record. First woman to break 8 hours
Canyons Endurance Run 100k Win minutes of the course record (Course record held by three-time Olympian and Western States 100 champ Magdalena Boulet). 5th overall
Rio Del Lago 100 win and course record. 6th overall
The Bear 100 2nd place and 7th fastest women's time in history. 15th Overall
2018 Moab Red Hot 50k Win and 10th overall
2018 Quicksilver 100k Win and Course Record
Ultra Runner of the year 2017- 5th
2019 Leadville 100 Female Champion